Kanojo Okarishimasu(Rent-A-Girlfriend) best romcom of year 2019?
Kanojo Okarishimasu(Rental-Girlfriend) best romcom of 2019?
Kanojo Okarishimasu Rent-A-Girlfriend or as many call it Rental Girlfriend is probably my favourite rom-com this year, it is similar to Nisekoi in more than one sense but that's not particularly a bad thing.
Genres: Romance, School Life, Shounen, Comedy, Ecchi
Rent-A-Girlfriend is a Japanese manga series written and illustrated by Reiji Miyajima.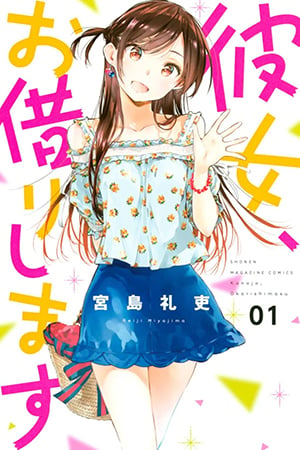 The plot of Kanojo Okarishimasu (Rent-A-Girlfriend):
Kinoshita Kazuya is a regular college student who was just dumped by his girlfriend. Feeling down in the dumps, he decides to hire Mizuhara Chizuru, a rental girlfriend, to make himself feel better. A beautiful and charming girl who can capture any heart in a wink. Things get difficult as Chizuru is introduced to Kazuya's grandma as his girlfriend. Now they need to fake their way out for the sake of bedridden grandma. Will Kazuya get a real girlfriend in Chizuru or is this leading to some new meeting?
Some Finer Points:
Be ready for a lot of drama and romance. A lot and I mean a lot of drama due to his ex who is also another potential love interest.
While Kanojo Okarishimasu (Rental Girlfriend) does go for quite a bit of Ecchi elements at times the story will keep you hinged. If you had liked Nisekoi you will likely enjoy this as well. Chizuru is our cold and professional but lovely female lead. She gets quite a lot of character development over time. We do have many more love interests for our MC. So be ready to leady another shipping war. Each of the female interests has some unique character to them though our mc does come out to be pretty weak-willed as he often is unable to take any decision.
The art style for this manga is amongst the best I have seen. The characters look amazing, to say the least. Reiji Miyajima san's efforts do show up.
If rom-com and drama interests you this is something not to miss out on.
Anime to air in the summer season 2020. So you can look forward to that if you prefer anime.
Should you read Kanojo Okarishimasu (Rent-A-Girlfriend)?
If you like rom-com or just keep missing Nisekoi or Toradora! this manga might just be for you.